Balloon Group 60th Birthday Cake
by Mark Smith
(Staffordshire UK)
The finished Balloon Cake
This is my third ever celebration cake finished in May 2013 for my partners birthday. The idea was to replicate the groups of balloons that were being used to decorate the party venue. A fairly simple idea that was very complicated to make. First of all I made a small wooden box from pine, into the top i drilled three holes and bolted in three 8mm threaded rods the box was then filled with concrete for counter balance. A base was added and the whole thing was screwed to a larger board. Four metal leaves were cut and bent to look like an opening box and these were drilled and attached to the box top. The three 8mm metal rods were then heated slightly and bent into position. Three standard balloons were then blown up and covered in 18 layers of papermache. The bottom of the papermache balloons were cut free and placed onto the threaded rods. Three 8" mdf boards were then cut and a whole was drilled in the middle these were then bolted to the threaded rods the papermache balloon bases were then attached to the Mdf boards with more papermache. The remains of the papermache balloons were then used to determine the final height of the threaded rods these were cut to the correct height just below the proposed top of the finished cakes. the threaded rods within the cake were then covered with a cut length of 10mm domestic pvc water pipe to protect the cake from the metal. All the main parts then had cake board covering attached with pva glue. the threaded rods were wrapped in double sided sticky tape and this was recovered in coloured curling ribbon. The box was covered in buttercream and decorated with coloured ready to roll fondant.


I then baked 4 x 8", 2 x 10" and 2 x 9" cakes for each balloon (one balloon was chocolate orange sponge and one lemon drizzle sponge. The cakes had a hole cut in the centre while still warm using a spare bit of the water pipe. When cool they were layered up on the stands using alternate layers of chocalate orange ganache and marmalade in the chocolate one and lemon buttercream and homemade lemoncurd in the lemon one. I then used the remaining papermache moulds as guides to help cut the shape of the balloons on the cakes. I then covered each balloon in lemon buttercream and chocolate orange ganache respectively. Finally I covered each balloon in coloured ready to roll fondant icing (tricky shape to do this) finally I decorated each balloon with three different sizes of fondant stars, and hand cut fondant 60's attached with water. To make the balloons look rubberized I sprayed them at a distance with proprietory edible pearl spray to give them a 'real' feel. For the finishing touches curling ribbons were added to to the base of the balloons and the box was then filled with proprietory chocolates. To transport it I had to wrap it in several layers of cling film (like pallet wrap) as they were very wobbly. The small size of the metal rods was a conscious decision because I wanted it to look like the balloons were floating, heavier metal rods would have looked like they were supporting them. I think it worked the cakes were placed in the middle of the buffet table and half the guests didn't even notice we had a cake Ithink they didn't give it a second look because it looked similar to the real balloos decorating the room.
Join in and write your own page! It's easy to do. How? Simply click here to return to Submit your cake!.
If you want to take your cake baking skills to another level, then you should consider looking at a book and video course by Maddy Pearson.
---
Search this site
---
Turn your love of something into a real business at home
Why not share that passion with other people? The company we use to get our message out about homemade birthday cakes has wonderful tools and support.
Unlike many web hosting companies, SBI goes beyond just "putting up a site". With the most comprehensive tool set that any beginner can easily use, maybe that passion you have could allow you to work at home full time
Click here to get more information about SBI and how they can help you.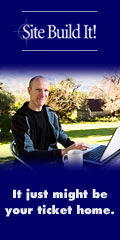 ---
---