Need a milestone birthday cake decorating idea?
The perfect birthday cake decorating idea might be sitting in your mind right now and you don't know it.
With a little coaxing, exposure to some other ideas you might just come up with the perfect cake for that milestone birthday cake.
You need to make a cake for someone's 30th, 2nd 39th, 3rd, 39th or even more. You really want to do something special and don't want to get a sheet cake from the local bakery that just says "Happy 30th" or something boring like that.
Why not do something really special?
With billions of birthdays happening around the world every year, you are bound to find something here that you can take and make "your own" with a little modification. Since birthday cakes are not copyrighted here, you are free to use them as you please.
Take the idea just as it is, modify a little here, a little there and you have your own new decorating idea.
Upload that idea here after you make it and share it with the world.
---
Yearly Milestone Cakes
---
Search this site
---
---
Do you have something you love to share with people?
Are you really passionate about something like I am about cakes?
Most people are.
Why not share that passion with other people? The company we use to get our message out about birthday cakes has wonderful tools and support.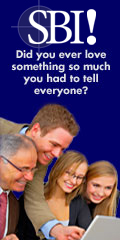 Click here or on the logo to get more information about SBI and how they can help you
share what you love like we do with our birthday cakes.
---
---