A great birthday cake design is waiting for you.
Creating a great birthday cake design doesn't have to be hard. All it takes is a little brains and motivation and you can make almost anything.
Look over the designs people have submitted and you can be inspired to make your own cake design and come back to share it with others.
Lot's of regular people just like you and me turning out a wonderful birthday cake design every day with the regular kitchen equipment we all have. There are links to equipment and pans and such should you want to get a little more specialized and do something truly different. Just browse around.
This page will be growing quickly so come back often.
Want to submit your cake, here is the place to do just that!
---
Pretty Designs
---
Search this site
---
---
Do you have something you love to share with people?
Are you really passionate about something like I am about cakes?
Most people are.
Why not share that passion with other people? The company we use to get our message out about birthday cakes has wonderful tools and support.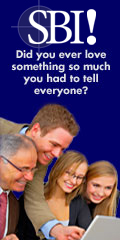 Click here or on the logo to get more information about SBI and how they can help you
share what you love like we do with our birthday cakes.
---
---