Birthday cake designs can take any shape. How about a car, truck, boat or bike?
With an almost infinate number of birthday cake designs out there, how can you choose? Why not look over the various designs that have been submitted to birthday cake central?
Vehicles are a pretty popular design choice when it comes to birthday cakes. People like to show off what they drive, sail or ride. This can present quite a challenge to the cake maker. With a little ingenuity, you can pull off any number of birthday cake designs and have fun doing it.
If you are really good at freehand cake cutting, a specialized pan might not be something you need.
On the other hand, if you want to make the task of building a vehicle cake a little easier, why not try a pan in one of these shapes. Party Works carries a pile of cake decorating items to help you make that perfect cake.
Don't be shy, after all, it's a cake. You CAN eat your mistakes!
---
Submitted Cakes
Vehicle Cakes
---
Search this site
---
---
Do you have something you love to share with people?
Are you really passionate about something like I am about cakes?
Most people are.
Why not share that passion with other people? The company we use to get our message out about birthday cakes has wonderful tools and support.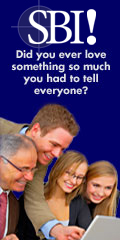 Click here or on the logo to get more information about SBI and how they can help you
share what you love like we do with our birthday cakes.
---
---