Send us your birthday cake pictures.
So you have birthday cake pictures you would like to show the world but you don't have a venue.
Here's where you can submit your pictures and techniques to show off just how your creative side can shine through.
You'll need to do a few things to make sure your birthday cakepictures are just right so let's go over them
Modify the photos so they are showing the best view of the cake. If you don't have software to do this, you can use a nice free program called Fotoflexer. It's super easy to use and runs right from your browser window.
Check out what I mean. I edited this birthday cake picture with Snipshot.(now use Fotoflexer, Snipshot is no longer free)
Original
Cropped and Resized
Take several pictures with and without flash. If you want to send me more than one photo, because you feel the cake just looks so good that it deserves more than one, you'll need to email the pictures to me.
Send the email to jspahn(put in an "@" symbol)mac.com. I'll add it to your page with the pictures you submitted.
Write up a detailed description of how you made the cake. Special tools used, tricks that made it easy for you to do it, etc.
Remember that by not everyone has made your cake so if there are some steps that just aren't intuitive to include them so someone else can re-create your idea. Don't worry, the world is such a big place you won't see this cake at anyone else's party any time soon.
Rules for birthday cake pictures you submit
First off, it has to be your cake. If you had it made for you by your wife or husband, that's okay too but don't go snapping shots of a cake you saw at a wedding and call it your own.
Don't cruise arond the net and copy a birthday cake picture then say it was yours. If you really like the picture, find out who it belongs to and ask them to submit it here. There are laws against doing that.
If you make the cakes as a professional, feel free to submit them. This will serve to inspire others to make great cakes at home!
Please don't just send a photo with a comment like, "this was an easy to make cake". We really want to share with everyone, all of this is free after all. Give some direction so someone could re-create the cake in their own home. Keep in mind, everyone's cake will turn out different so your cake is still one-of-a-kind!
Nobody is perfect and neither is any one cake. Send it in and let everyone enjoy your creativity!
Have A Great Cake You Want to Share?
Do you have a really great birthday cake you made and want to share with the world? Here's your spot. I'll personally review every cake and post it to the appropriate spot on the site
Comments on Cakes
Click below to see contributions from other visitors to this page...

---
---
Search this site
---
---
Do you have something you love to share with people?
Are you really passionate about something like I am about cakes?
Most people are.
Why not share that passion with other people? The company we use to get our message out about birthday cakes has wonderful tools and support.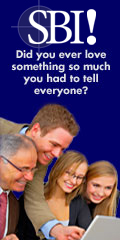 Click here or on the logo to get more information about SBI and how they can help you
share what you love like we do with our birthday cakes.
---
---