Birthday cakes you can make.
Any of these birthday cakes can be made by you right at home. You don't need to be professionally trained to make a beautiful design with simple steps that anyone can follow.
These designs have been built by regular people in their own kitchens. A Viking range and 2000 sq ft of kitchen space is not a requirement to turn out a cake that looks like a million dollars.
Remember that the cakes that you make are special, they come from you and each one is unique. Most of us would think that making your cake from a box mix would be much faster and give results that are superior to those you can get from scratch. Not so! You really won't save any time using a boxed cake mix. Studies have shown that it is literally identical timewise to use a box mix versus using scratch ingredients. The plus side of making your cake from scratch is that you can control the freshness of your ingredients
Most people will never know the difference. Only if you are making a truly different cake with other than plain white or chocolate flavoring will you find a boxed cake mix won't work for you.
The love and affection that you put into this work will all be worth it when you see the face of the recipient light up. Nothing draws a crowd (not only a crowd of children either) than a special cake design.
Share your cakes here. Use our upload page.
---
Buildings
---
Search this site
---
---
Do you have something you love to share with people?
Are you really passionate about something like I am about cakes?
Most people are.
Why not share that passion with other people? The company we use to get our message out about birthday cakes has wonderful tools and support.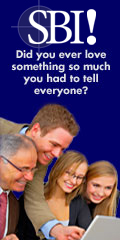 Click here or on the logo to get more information about SBI and how they can help you
share what you love like we do with our birthday cakes.
---
---