Bugs, spiders & snake cake
by Rebecca Carlsen
(South Africa)
My son wanted a Snakes & Bugs theme for his 4th birthday party and asked for a "big cake with the snake squeezing the cake". Starting about a week before the party I made the spiders, scorpion & various bugs from white fondant icing which I moulded, left to dry and then painted with paste and powder food colourings diluted with alcohol (the alcohol evaporates quickly so the fondant icing doesn't melt.) This method means that the colours are more vibrant but uses less colouring than if you coloured the fondant. I cut out a lot of different leaves from rolled out fondant using various leaf cutters and dried and painted them in the same way. I made the butterflies, spiderwebs and letters with piped royal icing which I painted when dry, the spiderwebs with silver and the letters with gold mixed with red edible glitter. I used florists wire for the various antennae and the leaf-hopper's delicate legs, which I painted with the food colouring along with the bugs. The day before the party I made 3 sizes of chocolate cake which I coated with a mixture of milk and dark chocolate melted with a bit of butter (keeping some for later). Once assembled I sprinkled with a Cadbury's Flake to look like soil. When it had set I made the snake from rolled out fondant filled with long marshmallows (apart from the head end which was filled with extra fondant icing) and sealed, then moulded the head and added eyes, tongue and fangs. I used a petal cutter to imprint a scale pattern on the snake then painted it with food colouring. I wrapped it around the bottom cake then secured the bugs, leaves and lettering with the melted leftover chocolate. I stuck clear drinking straws into the bottoms of the bees and stuck these into the cake to make them "fly". I also made a "log" from fondant icing wrapped around a marshmallow and painted brown to put the candles into. I sprinkled another Cadbury Flake around the cake to look like soil.


Join in and write your own page! It's easy to do. How? Simply click here to return to Submit your cake!.
If you want to take your cake baking skills to another level, then you should consider looking at a book and video course by Maddy Pearson.
---
Search this site
---
Turn your love of something into a real business at home
Why not share that passion with other people? The company we use to get our message out about homemade birthday cakes has wonderful tools and support.
Unlike many web hosting companies, SBI goes beyond just "putting up a site". With the most comprehensive tool set that any beginner can easily use, maybe that passion you have could allow you to work at home full time
Click here to get more information about SBI and how they can help you.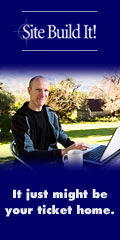 ---
---