Dairy Queen™ doesn't own the ice cream cake market.
An ice cream cake, how do you make one of those? The day started off great because you had had a really cool design for a birthday cake and you still want to do it but if you don't make an ice cream cake you kid will freak.
Don't fret you can make that cake at home on your own and incorporate your super design right into it!
If you have never made a cake with ice cream as a component you are going to be pleasantly surprised. It really isn't that difficult.
Let's dive right in and see how to do this type of cake.
---
Ice Cream cakes are always a special treat. Usually relegated to the giant ice cream chain Dairy Queen ™, they are not that hard to make and your kids will think you are a wizard.
Here is your ingredient and/or shopping list for your ice cream cake. You will need;
1. Angel Food Cake - See our recipe page for a super easy at home recipe.
2. Your Favorite Flavor of Ice Cream - Homemade is best. Here's a good place to get an ice cream recipe
3. Fresh Whipped Cream - Don't use Cool Whip, it's nasty.
4. Frosting for the outside.
5. Fresh fruit or chocolate as garnish
Bake the cake according to the instructions on the box, or better yet, make it yourself..
Put the cake in the freezer for an hour or two after baking.
Slice the fresh fruit or shave the chocolate into decorative pierces to garnish the top of the cake.
About an hour after you put the cake in the freezer remove the ice cream and allow it to thaw for about 20 minutes. Then remove the cake from the freezer and cut into three horizontal layers with a Serrated cake knife
Mix the ice cream with a wooden spoon until it is smooth and creamy then use this to frost between the layers of cake. If you are making it homemade, you can take it out of the ice cream maker (we have the Lello 4070 Gelato Junior) and use it right away, it will be fairly soft.
Once the cake is assembled frost the outside with your favorite frosting (or better yet your own) You can then garnish the cake with fruit or chocolate and the whipped cream.
Place the cake back into the freezer until ready to serve.
A pretty simple way to make a dessert that will have a huge impact!
---
Search this site
---
---
Do you have something you love to share with people?
Are you really passionate about something like I am about cakes?
Most people are.
Why not share that passion with other people? The company we use to get our message out about birthday cakes has wonderful tools and support.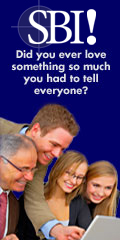 Click here or on the logo to get more information about SBI and how they can help you
share what you love like we do with our birthday cakes.
---
---