Pirate Ship Cake
by S Jordan (Eat This Cakes)
(Satellite Beach, FL)
Last year my grandson was all into pirates.....pirate clothes, pirate movies, pirate books, well you get the picture! So for his 4th birthday what other kind of cake should he have but a pirate ship! This was my first attempt at carving a cake and using fondant to make edible accoessries!


I started out with 2 1/4 sheet cakes, cut in half and stacked with buttercream. I used one of his toy ships as a model and just started carving! I cut the sails out of fondant and put the holes in for the skewers, then laid them over a peanut butter jar to set up and get the "wind blown" look. All the features (railings, flag, sails, cannons, cannon balls, treasure chest, palm trees, steering wheel, shark fins) are all made of fondant. The figures were his Backyardigans that I put into the dishwasher before putting on the cake.
The island is made from 2 6" rounds, carved to resemble the mound. I put buttercream around the base for water and sand. When complete, it stood nearly 2' tall!!! He and his classmates went nuts over this thing and couldn't believe they could eat everything except the wooden skewer masts!
If you have never tried to carve a cake--you should! What's the worst that can happen---you have to eat a pile of cake???? What fun we had. My grandson loves to decorate with me so he helped make the cannon balls and cannons (of course, one for the cake and two for his mouth!!!) Hope you like it!
Join in and write your own page! It's easy to do. How? Simply click here to return to Submit your cake!.
If you want to take your cake baking skills to another level, then you should consider looking at a book and video course by Maddy Pearson.
---
Search this site
---
Turn your love of something into a real business at home
Why not share that passion with other people? The company we use to get our message out about homemade birthday cakes has wonderful tools and support.
Unlike many web hosting companies, SBI goes beyond just "putting up a site". With the most comprehensive tool set that any beginner can easily use, maybe that passion you have could allow you to work at home full time
Click here to get more information about SBI and how they can help you.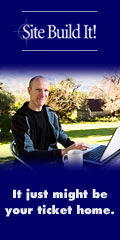 ---
---