Use a sports birthday cake to show your team spirit.
With the addition of our first sports birthday cake I figured it would be a pretty rapidly growing category so I am going to dedicate a page to just sports themed cakes.
As it grows, I'll most likely have to break it out by each professional sport and who knows, maybe even by team.
So go on and submit those sports cakes! Show the world your team spirit!
---
Baseball Cakes
---
Search this site
---
---
Do you have something you love to share with people?
Are you really passionate about something like I am about cakes?
Most people are.
Why not share that passion with other people? The company we use to get our message out about birthday cakes has wonderful tools and support.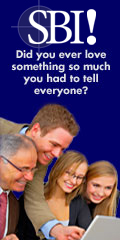 Click here or on the logo to get more information about SBI and how they can help you
share what you love like we do with our birthday cakes.
---
---