A star wars birthday cake yours can be.
The star wars birthday cake is now in demand with another generation because of the release of the Clone Wars
series of the Star Wars franchise.
Classic characters like R2D2 and others are becoming more and more in demand so why not have a page where you can submit just your Star Wars cake creations.
---
Star Wars Cakes
---
Search this site
---
---
Do you have something you love to share with people?
Are you really passionate about something like I am about cakes?
Most people are.
Why not share that passion with other people? The company we use to get our message out about birthday cakes has wonderful tools and support.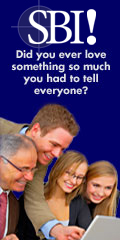 Click here or on the logo to get more information about SBI and how they can help you
share what you love like we do with our birthday cakes.
---
---