Star War's Cake
by Christy
(Sulphur Springs, TX)
Millenium Falcon Birthday Cake
I made this cake for my son's 7th birthday. It was very easy to make:


Just start out with a 10" round cake for the main body. Next I baked a sheet cake to cut out the leg like pieces and placed them next to the round cake, and also cut a small piece for the little arm that comes out on the side, this piece needs to be rounded some on top.
I covered the cake in grey icing and then did the details of icing lines and circles.
The satellite and round things on the back I made of gumpaste, (gumpaste dries pretty quick so you have to work fast). You can stick a toothpick in the satellite to help hold it up straight, but you need to do this before the gumpaste drys and gets hard. The round things on the back are just flattend balls of gumpaste I also put a toothpick in them so that they didn't come off of the cake during transport.
I covered the end of the little arm with fondant this is supposed to be where the cockpit is.
The board that the cake is on is also covered in a mixture of fondant and gumpaste. To glue the fondant/gumpaste mixture on the board you need to use vanilla or piping gel (the board needs to be done a couple of days in advance to let it dry). I left it kind of marbleized so that it would look like space and put little yellow dots for stars.
Overall the decorating took about 1 hour to do.
If you want to take your cake baking skills to another level, then you should consider looking at a book and video course by Maddy Pearson.
---
Search this site
---
Turn your love of something into a real business at home
Why not share that passion with other people? The company we use to get our message out about homemade birthday cakes has wonderful tools and support.
Unlike many web hosting companies, SBI goes beyond just "putting up a site". With the most comprehensive tool set that any beginner can easily use, maybe that passion you have could allow you to work at home full time
Click here to get more information about SBI and how they can help you.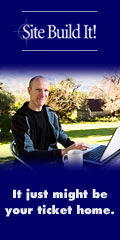 ---
---