The Krabby Patty
by April B.
(Winston Salem, NC)
The
This was a cake I made for my son's 7th birthday. His theme was Spongebob, so I was inspired to try making a krabby patty cake. The "buns" are regular, store-bought yellow cake mix and the "patty" is chocolate cake mix. I tinted some frosting tan for the top bun and placed almond slices on the top for the seeds. The "toppings" were made out of fondant. I rolled white fondant for the "onions." For the "lettuce" I used green fondant and used plastic wrap to give it a wrinkled look. I also added "pickles" and "tomatoes." The "cheese" was fondant rolled thin and tinted yellow-orange. I hung them over the sides. Then to top it off, I thinned out some icing, tinted some yellow and some red, and made the "ketchup" and "mustard." One tip if anyone fixes one of these: be careful if you are transporting it! We had an hour drive to the place the party was going to be and I made this the night before. We had some minor issues with the top "bun" wanting to slide, but it made it. But in all it was a big hit at the party and everyone loved it.
Join in and write your own page! It's easy to do. How? Simply click here to return to Submit your cake!.
If you want to take your cake baking skills to another level, then you should consider looking at a book and video course by Maddy Pearson.
---
Search this site
---
Turn your love of something into a real business at home
Why not share that passion with other people? The company we use to get our message out about homemade birthday cakes has wonderful tools and support.
Unlike many web hosting companies, SBI goes beyond just "putting up a site". With the most comprehensive tool set that any beginner can easily use, maybe that passion you have could allow you to work at home full time
Click here to get more information about SBI and how they can help you.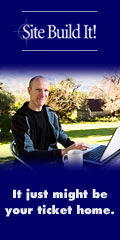 ---
---