The Little Mermaid cake
by Joe Umiker
(Elk Grove, CA)
Little Mermaid Cake
This is the most ambitious cake my wife and I have tried to make. It was for our Daughters 4th birthday. It was both a success and failure! A success in that it came out very cute and everyone enjoyed it. Failure in that it was totally unstable and the cake was slowly falling apart. However it lasted long enough to get to the singing part of the party.


We made three tiered cake, each tier, was made from a two layer cake. The bottom layer was yellow cake with strawberry filling, the top two were chocolate with custard filling. We put a dowel down the center of the cake to stabilize it, but I think we used one that was too thin.
We covered the cake with blue colored butter-cream and blue tinted piping gel. However both were home-made and the butter-cream was not stiff enough for the process and the piping gel was too thin as well. When they combined they just proceeded to slide slowly off.
I sculpted the little mermaid, Ursula, (My wife did Flounder), King Triton (When he was transformed by Ursula into a "poor unfortunate soul"), flotsam and jetsam (The eels) out of Wilton's gum paste and then hand painted with Wilton's and Americolor's food coloring. The sea-shells, star fish and sea-weed were sculpted out of marshmallow fondant. The Little mermaid's rock was rice crispy treat covered in gum-paste and painted with Wilton's brown food coloring. Each piece was place on one of the three tiers and the little accent pieces (Star fish, Sea-weed, and Sea-shells) were pressed on the side (The sea-shells had toothpicks to hold them on.
It turned out cute, but as I side a total structural failure. Oh well we will think the design through more thoroughly before we attempt anything like this again.
Join in and write your own page! It's easy to do. How? Simply click here to return to Submit your cake!.
If you want to take your cake baking skills to another level, then you should consider looking at a book and video course by Maddy Pearson.
---
Search this site
---
Turn your love of something into a real business at home
Why not share that passion with other people? The company we use to get our message out about homemade birthday cakes has wonderful tools and support.
Unlike many web hosting companies, SBI goes beyond just "putting up a site". With the most comprehensive tool set that any beginner can easily use, maybe that passion you have could allow you to work at home full time
Click here to get more information about SBI and how they can help you.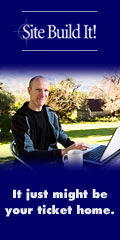 ---
---